Duluth Airshow, DARE2B to Provide Free Airshow Tickets to Students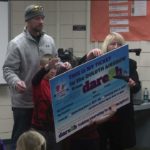 DULUTH, Minn. – The Duluth Air & Aviation Expo, presented by St. Luke's and Twin Ports D.A.R.E.(DARE2B) held an event today to announce that tickets to the most anticipated event happening this summer, will be free for more than 7,500 elementary school students in grades K-5, thanks to underwriting from DARE2B.
Judy Weber, the founder of Twin Ports DARE Inc, the airshow provides many learning experience for these students outside of the classroom.
"The Duluth Airshow has such an amazing group of educational people, which will work closely with them to make sure that it's not just entertainment, but also educational," said Deb Krieg of Twin Ports D.A.R.E.
Learning experience can include mathematical use of computing flight time and the geography of charting aeronautical flight plans, as well as aviation history, from Earhart to the Wright Brothers.
President and Founder of the Duluth Air and Aviation Expo, Ryan Kern stated, "Just the fact that the F-35 is coming to Duluth is going to be huge. It's huge for the airshow, huge for the region, and we're really excited and passionate to be able to share that with our community."
Tickets will be distributed to elementary schools within a 20-30 mile radius of Duluth starting in mid-April. The Duluth Air and Aviation Expo will be held on June 3 and 4.