Baking Pavlova with The Exchange
Cooking Connection: The Exchange Deli, Bakery & Catering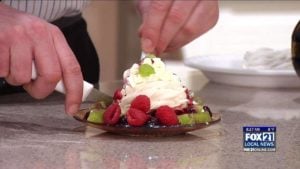 DULUTH, Minn. – For this week's Cooking Connection Lisa Quarles, the pastry chef at The Exchange Bakery, showed the FOX 21 crew the ropes in the kitchen.
Quarles showed FOX 21's William Seay how to make pavlova.
The Exchange Bakery is located at 301 West 1st Street, Duluth, MN 55802.
Their phone number is 218-727-8836.
Find them online at www.theexchangecateringanddeli.com.