Changing the World for People with MS
Marking MS Awareness Week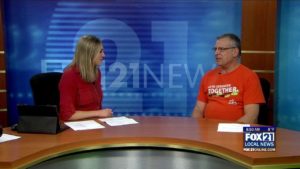 DULUTH, Minn. – This week, March 5-11, marks MS Awareness Week.
Multiple Sclerosis happens when a body's immune system attacks the central nervous system.
This can cause many symptoms including fatigue, walking difficulties, vision problems, dizziness, pain, and cognitive changes.
The National MS Society works to improve the quality of life for people affected by MS.
They do this by providing support, programs, resources and connections.
The society also raises funds for research and treatments.
More than two million people live with MS worldwide and more than 17,000 of them live in the upper Midwest area.
The society is holding a few events to supports those living with MS locally.
The Walk MS Duluth event is taking place at 9 a.m. on May 6.
For more information, or to register for the walk, click here.
The Bike MS 150 is taking place June 9-11.
Bicyclists will travel from Proctor to White Bear Lake, MN with an overnight stop in Hinckley.
For more information, or to register for the bike ride, click here.
There is also the Finish MS event that is tied to Grandma's Marathon.
Participants can run the full or half marathon while raising funds for MS.
For more information click here.
For more information on the disease, head to nationalmssociety.org.