Slip Bridge to See Some Improvements Beginning Next Week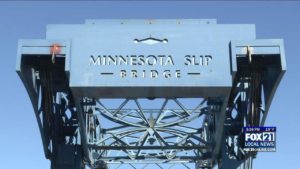 DULUTH, Minn. – The City of Duluth has continuously been working since last year with its consultant engineer LHB Corp, on a new design for the blue, Minnesota Slip Bridge in Duluth's Canal Park.
The City's consultant engineer has been working to design new custom manufactured parts for the 26-year-old bridge, which has been riddled with numerous repairs and closures since it first opened.
The majority of the parts are ready for installation by Lakehead Constructors.
Construction operations are scheduled to begin on Monday, March 20, weather permitting, and is expected to be complete by the first week of June.
The project will replace the current spool and cable system with a rack and pinion system, which will operate more reliably than the current system.
During the month of May, the bridge will be pinned up to allow for marine traffic in and out of the slip, but the bridge will remain closed to pedestrians. All pedestrian traffic will be rerouted around Lake Avenue onto Railroad Street, then Harbor Drive to access the DECC.
The bridge will be closed again in the fall for a new blue paint job.
At the conclusion of this spring project, the public will enjoy a much more reliable bridge, and it will be capable of operating in almost any weather.