Concert Supports Young Musicians
Annual Pops Benefit Concert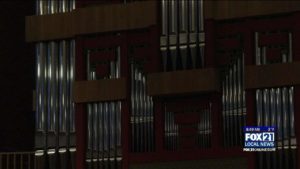 DULUTH, Minn. – This weekend music will be filling the air as organists raise money for a scholarship fund.
The Arrowhead Chapter of the American Guild of Organists will have its annual Pops Benefit Concert on Sunday, March 19, at 3:00 p.m. at the The Lutheran Church of the Good Shepherd (45th Ave. East, Duluth).
Performers include Dr. Mark Monson & The Windchill Brass, organist Jason Branham, vocal soloists Elias Mokole and Brandon Veale, a mother and son hand bell duo, and a string quartet.
A silent auction will follow, with items donated by local artists and crafters, including crocheted and knitted items, stained glass, pies, paintings, chocolate baskets, gift certificates, barbecue side table and barbecue cooking tools.
Coffee will be served with scones by Paul Sapyta available for purchase.
The event is free and open to the public.
A freewill offering will be accepted for the Arrowhead Chapter's organ scholarship fund, which provides lessons and materials for students 12-18 years of age interested in studying the organ.
This year, the organ guild has been providing funds for six years, training eleven students who have had church and performing opportunities.
Several have enrolled in organ programs at major universities and colleges.
For more information, head to arrowheadago.com.