Maritime Museum Prepares for Spring
Northland Uncovered: Spring Cleaning at Lake Superior Maritime Museum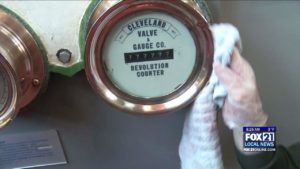 DULUTH, Minn. – Spring is just days away and a local museum is preparing for tourism season.
The Lake Superior Marine Museum Association is looking for volunteers for the
Annual Spring Cleaning Day at the Lake Superior Maritime Visitor.
This annual Spring Cleaning Day is Wednesday, March 15 at the Visitor Center at 600 South Lake Avenue in Canal Park in Duluth, MN.
The cleaning will be from 10:00 a.m. – 3:00 p.m. with lunch provided by Grandma's Sports Garden.
Volunteers are needed to dust, update various displays and exhibits, polish brass, make sure electronic equipment is in working order and assist Park Rangers with any special projects.
If you can volunteer to help, contact LSMMA at:
Phone: 218-727-2497
Email: info@lsmma.com
LSMMA is a nonprofit organization established in 1973 to preserve the region's maritime history. For more information, visit www.lsmma.com.