Texas Roadhouse Offering Options for Those Recognizing Lent
Cooking Connection: Norwegian Salmon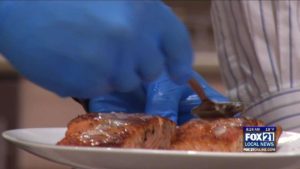 DULUTH, Minn. – Many Northlanders are currently recognizing Lent and Texas Roadhouse wants these folks to know the restaurant is not just a steakhouse.
Jeff Fort, Managing Partner at Texas Roadhouse, says there are many other options if someone is trying to avoid red meat.
The restaurant is offering an entire Dockside Favorites menu.
For this week's Cooking Connection, FOX 21's William Seay made salmon with Texas Roadhouse.
Texas Roadhouse is located at 9002 Mall Dr., Duluth, MN 55811.
They can be reached at (218) 624-7427.
For more information on the menu, head to texasroadhouse.com.