Extra Enforcement to Seek Turnaround in Distracted Driving Incidents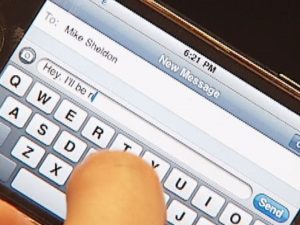 ST. PAUL, Minn. – Law enforcement agencies across Minnesota will be conducting extra distracted driving enforcement April 10-23 to help prevent senseless deaths on the road.
Deputies, police officers, and troopers from more than 300 agencies participate in the extra distracted driving enforcement campaign coordinated by the Minnesota Department of Public Safety Office of Traffic Safety (DPS-OTS) Overtime funding is provided by the National Highway Traffic Safety Administration.
Distraction Numbers: 
Texting and driving citations:

2012 – 1,707
2013 – 2,177
2014 – 3,498
2015 – 4,115
2016 – 5,988

In 2015, distracted driving contributed to 7,666 injuries and 74 deaths.
When a crash occurs in Minnesota, the driver behavior that is most often cited by law enforcement agencies is attention or distraction.
Minnesota's "No Texting" Law
In Minnesota, it is illegal for drivers to read, compose, or send texts and emails, and access the web while the vehicle is in motion or apart of traffic. This includes sitting at a stop light or stop sign or stopped in traffic. It is also illegal for drivers with a permit or provisional license to use a cell phone while driving, except for emergencies to call 911.
Under Minnesota law, drivers will face a $50 fine plus court fees, for a first offense. They'll pay an additional $225 fine plus court fees, for a second and subsequent violations.
DPS Encourages Drivers to Make the Safe Choice
Cell phones – put the phone down, turn it off, or place it out of reach
Music and other controls – Pre-program radio stations and arrange music in an easy-to-access spot. Adjust mirrors and ventilation before traveling.
Navigation – Map out the destination and enter GPS routing in advance
Eating and drinking – avoid messy foods and secure drinks
Children – Teach children the importance of good behavior in a vehicle and model proper driving behavior.
Passengers – Speak up to stop drivers from distracted driving behaviors and offer to help with anything taking the driver's attention off the road.
For more information on Minnesota driving laws visit www.dps.mn.gov