Gun theft fugitive caught in southwest Wisconsin
Man who found fugitive describes him as cordial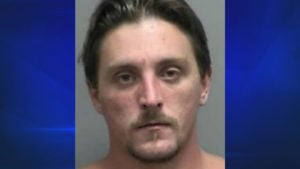 MILWAUKEE – Sheriff's officials say a man suspected of stealing firearms from a gun store and sending President Donald Trump an anti-government manifesto has been arrested in southwestern Wisconsin.
The Rock County Sheriff's Office says 32-year-old Joseph Jakubowski was captured around 6 a.m. Friday near Readstown, Wisconsin.
The sheriff's office said in a statement that he was captured without incident.
Readstown is 160 miles west of Milwaukee.
More than 150 law enforcement officials had been searching for Jakubowski since April 4 when authorities say he broke into a gun store in Janesville, about 70 miles southwest of Milwaukee.
The Rock County Sheriff's Office says Jakubowski wrote a 161-page manifesto in which he detailed a long list of grievances against the government and spoke of plans to launch attacks with the 18 firearms he allegedly stole.
The Wisconsin property owner who found the man who was at the center of an intense manhunt says the fugitive was cordial when he confronted him camping on his farm.
Jakubowski was discovered on farmland in Vernon County late Thursday.
Jeffrey Gorn tells The Associated Press he was driving his four-wheeler on his property when he spotted a man camping.
Gorn says he didn't realize he was the subject of the manhunt.
Gorn, a retired high school counselor, says he talked to the man for about an hour and never once felt threatened.
He says the man he later learned was Jakubowski was angry with society in general, but never raised his voice.
Gorn returned to his house and called sheriff's officials.