Toward Zero Deaths and Local Schools Partner to Put the Phone Down
SPEAK UP: PUT THE PHONE DOWN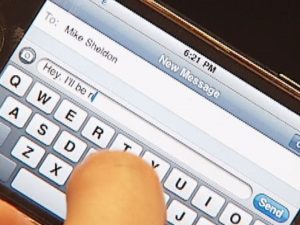 CLOQUET, Minn. – Local schools and regional Toward Zero Deaths partners are working to encourage high school students to practice safe driving habits and speak up when others drive distracted.
For the first time, law enforcement across the state is extending the extra enforcement period to two weeks to conduct overtime patrols for distracted driving. The campaign, run by the Minnesota Department of Public Safety Office of Traffic Safety, will run through April 23.
Northeast Minnesota regional law enforcement, regional traffic safety stakeholders, MnDOT, DPS, and Cloquet High School joined forces in the Speak Up campaign, that will hopefully change driving habits of young drivers and save lives.
"In order to prevent another tragedy, Toward Zero Deaths is committed to educating our students on the dangers of distracted driving," said Sergeant Neil Dickenson, Minnesota State patrol. "Our goal is to encourage teens to speak up when others are not paying attention behind the wheel. Offer to be a designated texter or tell the driver it can wait. Speaking up could ultimately save your life or the lives of others on the road."
Distracted Driving Behaviors
Posting on Facebook, checking that box score or Googling information on a device while driving are all against the law under Minnesota's "Use of Wireless Communications Device" statute, which is commonly referred to as the texting and driving law.
Distractions that could lead to a crash also include fiddling with controls for music, eating and drinking, children fighting or an adult passenger's behavior.
Distracted Driving Consequences
With Minnesota's "No Texting" law, it's illegal for drivers to read, send texts and emails, and access the web while the vehicle is in motion or a part of traffic. That includes sitting at a stoplight or stop sign.

$50 plus court fees for a first offense.
$275 plus court fees for a second and/or subsequent offense.

If you injure or kill someone because of texting and driving, you can face a felony charge of criminal vehicular operation or homicide.