Minnesota Couple Collaborates to Create Visual Memoir of Holocaust Survival
Sandra Brick has been working the last 9 years to craft the pieces of art based on her husband Fred Amram's story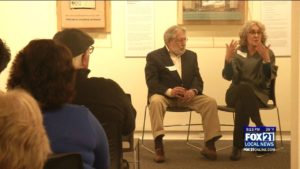 DULUTH, Minn. – After narrowly escaping Nazi German with his Jewish family more than 70 years ago, Fred Amram is sharing his story of survival and he's doing it with the help of his wife.
Over the past nine years, Amram's wife Sandra Brick has been collaborating with her husband, creating pieces of art to help visually tell his story. Her work has come together in the form 24 displays entitled "Lest We Forget."
It's all based on chapters from Amram's recently published memoir, "We're in America Now: A Survivor's Stories."
The exhibit walks you through Fred's life as a young Jewish boy, from the start of Nazi Germany to when he escaped to the United States.
Some pieces include actual photos from Fred's childhood, which helped give his wife a better sense of what he went through.
"It was emotional in the fact that I got to know him deeper and I got to know him better," said Brick. "It was emotional that way. There's also a sadness that this happened."
Each piece is accompanied by a short written account from Fred. He says Sandra was able to creatively translate his written stories into a visual memoir.
"The exhibition does something else," explained Amram. "We talk about the 6 million Jews who died. 6 million is an incomprehensible number. It has little meaning. In here, we felt the story of one person and it helps make it come alive."
April 24 is the annual remembrance of Yom HaShoah, a day to commemorate those who perished in the Holocaust.
Brick's work is on display at the Duluth Art Institute at The Depot through June 18.