Grandma's Marathon Weekend Traffic Advisories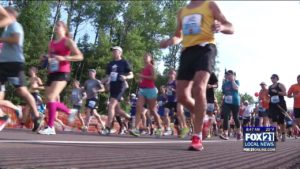 DULUTH, Minn. – The 24th William A. Irvin 5K will take place on Friday, June 16 at 6:00 p.m. in the Canal Park and DECC area. Traffic delays can be expected from 5:45 p.m. to 7:00 p.m.
The 41st Grandma's Marathon and 27th Garry Bjorklund Half Marathon will be held on Saturday, June 17.
The half marathon begins at 6:15 a.m. just north of Clearwater Grille and the full marathon at 7:45 a.m. outside Sonju Two Harbors. All races will take place along Scenic Highway 61 to Duluth, finishing in Canal Park.
Lake Avenue will remain open during the races, however there will be heavy congestion from the hours of 6:15 a.m. to 2:45 p.m.
Superior Street from 12th Avenue East to 5th Avenue West will remain closed until approximately 2:45 p.m.
Check back for updates prior to the event.