Duluth Road Projects Scheduled for Next Week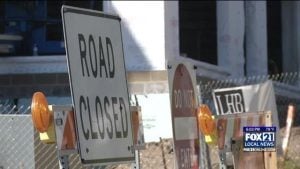 DULUTH, Minn.-Next week a few road and utility projects will begin in Duluth.
Beginning on Monday, there will be a gas utility improvement project at East Fourth Street.  The project will occur between Wallace Avenue and Hawthorne Road. The gas line work, located under the sidewalk, will prohibit the use of the walkway on the south side. Portions of the east bound lane on Fourth Street will be closed.
Westbound lanes will remain open. The first phase of this project will be completed by the end of June. Workers will be there between 7 a.m. and 9 p.m.
Street patching will also occur on 24th Avenue West between Fifth and Sixth Street in Lincoln Park beginning June 13. This is being done to improve road conditions after excavations were done after a water main repair.
Southbound traffic will turn right to access 25th Avenue West and northbound traffic will use 23rd Avenue West. Residents will be allowed access on the block. The project is expected to last a week. Duluth Transit Authority traffic will also be rerouted during the project.