LCP Works to Restore Power in Grand Rapids, Kettle River Areas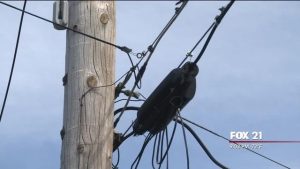 GRAND RAPIDS, Minn. – Thursday morning's fast moving thunderstorms affected electric service for more than 1,200 Lake Country Power members.
As of 9 a.m. Thursday, crews repaired service to more than 570 members. Those affected were primarily in the Grand Rapids and Kettle River areas.
LCP crews will be working to restore service today. Line crews from Mountain Iron are currently assisting those in Grand Rapids, where the most outages exist.
Members may call the cooperative at 1-800-421-9959 for more information, or visit the Outage Center online at www.lakecountrypower.coop or mi.lcp.coop:82 for a real-time outage status.