Police Shutdown Superior-Bound Lanes of Bong Bridge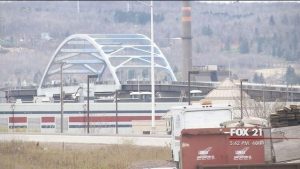 UPDATE: Authorities have reopened the bridge as of 3:20 p.m. Police negotiators were successfully able to resolve the situation. The individual is being transported to the hospital for evaluation.
DULUTH, Minn. – Southbound lanes heading into Superior on the Richard I. Bong Bridge have been shutdown by the Duluth Police Department at the request of the Minnesota State Patrol.
Authorities indicate that they are working with an individual experiencing a mental health crisis.
Bong Bridge Superior-bound traffic will remain closed until further notice.
If you or a loved one is feeling distressed, call the National Suicide Prevention Lifeline. The crisis center provides free and confidential emotional support 24 hours a day, 7 days a week to civilians and veterans.
Call the National Suicide Prevention Lifeline at 1-800-273-8255.