Fines Increase Aug. 1 for Failure to Stop for School Buses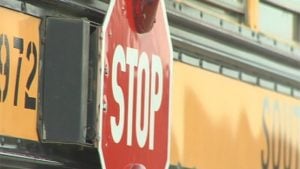 MINNESOTA – State law requires all vehicles to stop for school buses with flashing lights activated and crossing arm full extended, as of August 1 drivers violating that law will face a larger fine, according to the Minnesota Department of Public Safety.
Citations will increase $200 from $300 to $500.
"Too often motorists ignore the school bus laws or are too distracted that they don't see the bus picking up or dropping off children until it's too late," said Col. Matt Langer, Chief of the Minnesota State Patrol. "When motorists violate the law, it puts the lives of children at risk. Drivers should always be looking out for school buses and expect those buses to make frequent stops during the morning and afternoon school hours. Pay attention and stop for buses to help keep our children safe."
During the DPS's School Bust Stop Arm Survey conducted earlier in 2017, 3,659 bus drivers across the state reported 703 stop arm violations in just one day.
In the past six years, the DPS reports that nearly 9,000 stop arm violations have been handed out.
Motorists
In Minnesota, motorists must stop at least 20 feet from a school bus that is displaying red flashing lights or a stop arm when approaching from the rear and from the opposite direction on undivided roads.
Motorists should slow down, pay attention and anticipate school children and buses, especially in neighborhoods and school zones.
The best way to be aware of your surroundings at all times is to put the distractions away.
Students             
When getting off a bus, look to be sure no cars are passing on the shoulder.
Wait for the bus driver to signal that it's safe to cross.
When crossing the street to get on the bus or to go home, make eye contact with motorists before proceeding.