Bald Eagle Nesting Areas Reopen at Voyageurs National Park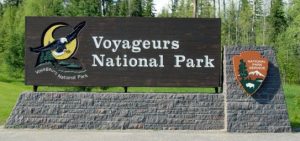 INTERNATIONAL FALLS, Minn. – Five of Voyageurs National Park's 276 visitor-use camping and houseboat sites are reopen after they were temporarily closed in May to protect bald eagle nesting pairs.
The areas reopened include:
Kabetogama Lake – Happy Landing Campsite, Camelback Island Campsite, Ek Bay Houseboat Site
Namakan Lake – Hamilton Bay Campsite, Sexton Is. Campsite
Each years since 1992, the park has temporarily closed the land and water areas surrounding active bald eagle nests to visitor use during their critical nesting periods.
In late July, Voyageurs completed the 45th annual bald eagle productivity survey, which included 103 nests, 29 of which were occupied by breeding eagles. Twenty-six eagle chicks survived to fledging.
For more information about the National Park Service and conservation efforts visit www.nps.gov.