Mall of America Celebrates 25th Anniversary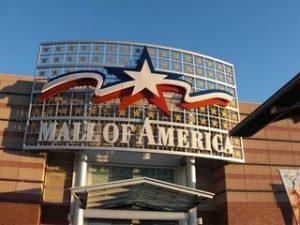 MINNEAPOLIS (AP) – The biggest mall in the United States is celebrating its 25th anniversary with cupcakes and party hats.
The Star Tribune reports that the Mall of America in Bloomington, Minnesota, will attempt to set the Guinness World Record, on Friday, for the most people wearing conical birthday hats and the most people simultaneously decorating cupcakes in celebration.
The 5.6 million square foot mall with more than 520 stores and 11,000 employees generates $2 billion in economic activity and has more than 40 million visitors every year.
The mall's attractions include an amusement park, aquarium, indoor zip line, and a mirror maze.
Mall spokeswoman Greta Anderson says an upscale CMX Theater will open at the mall later this year, with a high-end bar and gourmet food.