Calumet Announces Agreement to Sell Superior Refinery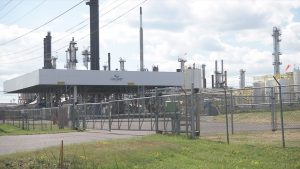 SUPERIOR, Wis. – Calumet Specialty Products Partners, L.P., has announced that it has signed an agreement to sell the ownership of its Superior refinery and various related assets to Husky Superior Refining Holding Corporation, a unit of Canadian company Husky Energy.
Under the agreement Husky has agreed to pay $435 million in cash, plus additional payment for networking capital, inventories, and reimbursement of certain capital spending.
In a statement issued Monday, Tim Go, CEO of Calumet commented, "The divestiture of our Superior refinery is in line with Calumet's strategic vision to become the premier specialty petroleum products company in the world.  This transaction provides both financial and strategic benefits  for our unitholders, as we further position Calumet to move forward on our stated objectives including strengthening our balance sheet, lowering our leverage, and freeing up capital resources that will allow us to better invest and fund future EBITDA enhancing growth strategies within our core Specialties portfolio.  The transaction also reduces our go-forward exposure to commodity pricing and volatility."
Go concluded, "Equally important, we are excited to find with Husky a great home for our employees at Superior and want to thank them for their contributions to our organization over the last few years.  Their dedication and efforts have made Superior an attractive value proposition for Husky, who will retain the Superior employees and will assume the union contract and pension plan.   Additionally, Husky has committed to invest in key capital projects at Superior, including the Superior Flexibility Project which will allow the plant to improve its operational efficiency."
The transaction is subject to customary closing conditions and regulatory approvals.