Unanimous Vote Names Arradondo as Mpls Police Chief
FOX 9 - KMSP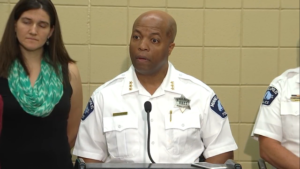 MINNEAPOLIS (KMSP) – The Minneapolis City Council voted unanimously Friday morning to approve Medaria Arradondo as the city's new police chief. Arradondo becomes the first African American police chief in Minneapolis history.
Arradondo has been serving the as the acting Minneaolis police chief since the resignation of Chief Janee Harteau in the wake of the Justine Damond shooting.
As acting chief, Arradondo, a 28-year veteran of the force, has already announced a new body camera policy requiring officers to have them turned on whenever they responded to a call or take action on their own. Many residents were upset that the officers' body cameras were not turned when Damond was shot.
Arradondo's appointment as chief runs through Jan. 2019, which would complete Harteau's remaining term. In recent committee hearings, council members made it clear that approving Arradondo's nomination for rest of Harteau's term gives the next council authority over the future of the department.
Civil rights advocate Dr. Josie Johnson called the appointment of Arradondo "historic and heroic."
"There have been many African American leaders who have paved the way for myself and other African American officers to be in the positions we are in today," Arradondo said after Mayor Betsy Hpdges appointed . "But I also know as chief of the Minneapolis police department I have 400,000 bosses."