16th Annual Dragon Boat Festival Traffic Advisories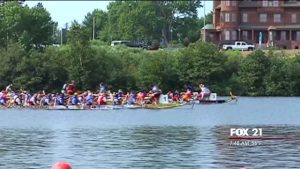 SUPERIOR, Wis. – Barker's Island will once again host the 16th annual Lake Superior Dragon Boat Festival on Friday, Aug. 25 and Saturday, Aug. 26.
The boat launch, swimming beach, and fishing platforms will close for the event, all other Barker's Island operations will be open and accessible to the public.
Motorists are urged to use caution along East 2nd Street corridor during the festival. On Friday and Saturday, speed limits will reduce to 25 mph on E 2nd St from Belknap Street to 18th Avenue East. Pedestrians will be allowed to cross East 2nd at Belknap or 9th Street. Superior Police will be present to assist with traffic flow.
Public parking will be restricted on Barker's Island for the festival. A free shuttle will travel from the Mariner Mall parking lot on the southwest side of the mall adjacent to the former Food Service Marketplace from 4 p.m. to 11:59 p.m. on Friday and from 6 a.m. to 10 p.m. on Saturday. Citizens are encouraged to park at the mall and use the free shuttle to reduce congestion, but are asked to not park near the theaters.
Accessible handicap transportation onto the island is available from the fishing platform on the mainland.
For more information visit www.lakesuperiordragons.com