Legal Battle Over Budget Veto Rests with Supreme Court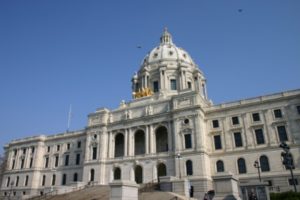 ST. PAUL, Minn. (AP) – The fate of the legal battle between Gov. Mark Dayton and Republican lawmakers now rests with the Minnesota Supreme Court.
The two sides took their disagreement surrounding the Democratic governor's veto of the Legislature's $130 million operating budget to the state's highest court Monday. Dayton line-item vetoed their funding to force top Republicans to rework major tax breaks and other measures he signed into law earlier this year.
Lawmakers sued and a lower court agreed, ruling the action unconstitutional. Dayton appealed.
Lawmakers' attorney, Doug Kelley, argues Dayton's veto "abolished" the Legislature. But opposing attorney Sam Hanson says the constitution clearly gives the governor authority to line-item veto funding.
It is unclear when a final decision may come.