New Feeding Ban in 11 Minnesota Counties after CWD Found on Deer Farms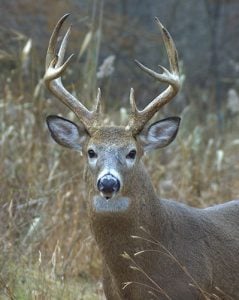 (MINNESOTA) – A new deer feeding ban is in place until 2019 for 11 central and north-central Minnesota counties surrounding two farms where multiple captive deer have been found to be infected with Chronic Wasting Disease (CWD), according to the Minnesota Department of Natural Resources.
"Feeding bans in central and north-central Minnesota are precautionary," said Lou Cornicelli, wildlife research manager for the MnDNR. "Wild deer in these areas are not known to have CWD. These feeding bans are a proactive step to keep CWD at bay."
Central Minn. counties affected are Kandiyohi, McCloud, Meeker, Stearns, Wright, and the portion of Renville County north of U.S. Hwy 212.
North central counties include Aitkin, Crow Wing, Morrison, a portion of Cass County south of MN Hwys 24 and 200, and the portion of Mille Lacs County north of Co Rd 11.
In Fillmore, Houston, Olmsted, Mower, and Winona counties, a ban on feeding and attracting deer has been in place since Dec. 2016 and remains in effect until June 2018.
One of the most probably mechanisms for CWD spread among deer, according to the DNR, is over a food or attractant source.
"Feed is not just a pile of corn or grain," Cornicelli said. "It includes salt and mineral blocks that many hunters use as well as fruits, vegetables, nuts, hay, and other food that is capable of attracting or enticing deer."
Feeding bans are intended to reduce the number of areas where deer can come into close contact, either directly or indirectly, the DNR states.
Food placed as a result of normal agriculture practices in generally exempted from the ban, but cattle operators should take steps that minimize contact between deer and cattle.
The feeding ban for central and north-central counties is effective Monday, Aug. 28, 2017 through Thursday, Feb. 28, 2019.
Mandatory precautionary CWD testing will be done in portions of the new feeding ban areas to determine whether the disease may have spread from captive to wild deer. Testing will also be mandatory for 1,800 deer harvested in permit areas adjoining southeastern CWD management zone, deer permit area 603.
For more information on CWD and the DNR's efforts visit mndnr.gov/cwd