Portion of Chester Park Trail Closed Due to Washout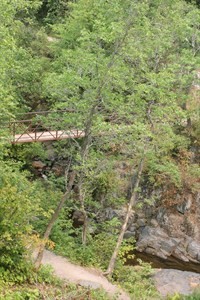 DULUTH, Minn. – The City of Duluth Parks and Recreation is notifying the public of a trail closure in Chester Park.
Due to the recent heavy rainfall, a segment of hiking trail on the east side of Chester Creek, between Skyline Parkway and the 8th Street bridge has washed out.
Trail closure signs are in place leading up to and around the area, as well as orange fencing.
Assessments are currently underway, but a repair time frame is not known, according to the City.
The City requests that the public avoid this area and instead use the west side trail.
The pedestrian bridge near 8th Street is still open for trail users to safely cross to the west side.