Bong Bridge Maintenance Scheduled to Begin Sept. 11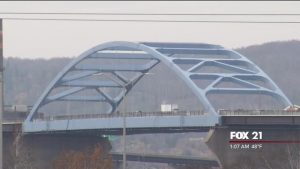 DULUTH, Minn. – Motorists traveling between Duluth and Superior over the Bong Bridge will encounter alternating lane closures for bridge maintenance activities for approximately three weeks, according to the Minnesota Department of Transportation.
Crews will begin work the week of Sept. 11. The project will include alternating left and right lane closures in both directions.
Work will be conducted from 9 a.m. to 3:30 p.m.
Width restrictions will be in place, loads cannot be wider than 10 feet.
Drivers are asked to use caution in the work areas.