Wisconsin National Guard Troops Deploy to Florida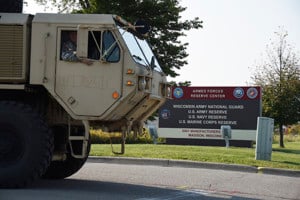 More than 2,500 Wisconsin National Guard troops are en route to Florida to provide ongoing Hurricane Irma relief efforts.
The Wisconsin National Guard's 32nd "Red Arrow" Infantry Brigade Combat Team has been redirected from Harvey relief efforts to assist with Irma.
Joining the 32nd Brigade on state active duty in helping Florida are the 157th Maneuver Enhancement Brigade's 1157th Transportation Company, and 64th Troop Command's 112th Mobile Public Affairs Detachment, along with other Wisconsin Army and Air National Guard elements.
"We're excited about it," said Sgt. 1st Class William Kocken, a readiness noncommissioned officer and platoon sergeant from Company A, 1st Battalion, 127th Infantry. "It's what many of us sign up to do – help others. It's what we like doing, it's part of serving the country – being able to step up and help those in need. Morale is remarkably high."
Wisconsin National Guard troops will continue leaving for Florida through Thursday and will remain in the region as long as they are needed.