Northern Paddler's Alliance Hosts Final Free Event of the Season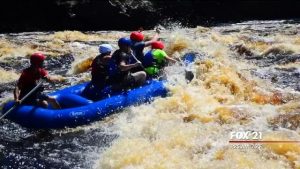 DULUTH, Minn. – The Northern Paddler's Alliance has teamed up with Swiftwater Adventures to host their fifth and final event of the season.
On Saturday, Sept. 16 community members can join the crews to go whitewater rafting down the St. Louis River followed by a BBQ picnic.
The event is free and open to the public. Participants must be 11 years of age or older – minors must be accompanied by an adult.
The event will take place from 1:30 to 5:30 p.m. on Saturday. A free shuttle will be offered from Denfled High School, the shuttle leaving at 1:30 sharp, or you can meet up with everyone at the UMD Outpost/National Kayak and Canoe Center in Carlton, next to the Thomson Dam at 2 p.m.
Equipment and instruction will be provided by experienced and professional guides.
Pre-registration is required to save a spot on the raft and food for the picnic. Visit eventbrite.com to reserve your spot.
For more information on the event or the Northern Paddler's Alliance visit www.northlandpaddlers.org