Walker Signs $3 Billion Foxconn Bill into Law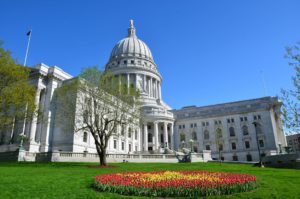 MADISON, Wis.-Gov. Scott Walker has signed a $3 billion incentive package designed to lure a Foxconn Technology Group flat-screen plant to southeastern Wisconsin.
Walker signed the bill Monday afternoon during a packed ceremony at a technical college in Sturtevant in Racine County, the most likely location for the plant.
The bill provides nearly $3 billion in cash to Foxconn if it invests $10 billion in a new flat-screen factory in southeastern Wisconsin and employs 13,000 people. It extends $150 million in sales tax exemptions on construction equipment and allows the company to build in wetlands and waterways.
The package also gives the conservative-leaning state Supreme Court the option to take appeals of circuit court decisions related to the Foxconn project directly rather than having them heard by an intermediate appellate court.