Body Recovered from Storm Sewer along Lakewalk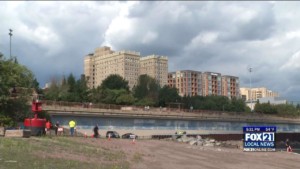 DULUTH, Minn. – Duluth Police have confirmed that human remains were recovered from a storm sewer line along the Lakewalk in Duluth.
Authorities responded to the Lakewalk Restrooms around 1:00 p.m. on Thursday, Sept. 28.
The report indicated a possible body in the storm sewer located there, according to police.
Public Works members discovered what appeared to be a body while doing routine maintenance near the facility.
The body was located roughly 10 feet below the surface, according to police.
Investigators stated that the body was decomposed and has been sent to the Midwest Medical Examiner's Office for an autopsy and identification.
The investigation is on-going at this time. Police do not believe this to be a "suspicious" death.
FOX 21 will update as information becomes available.