Active Adventures: Keeping Your Body Healthy in Cool Weather
In Motion Therapy Physical Therapist Gives Exercise Tips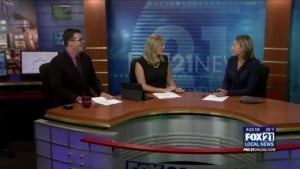 DULUTH, Minn. – As Fall ushers in cool weather, many Northlanders may feel a change in their body.
Annita Winkels, DPT, visited FOX 21 to give some tips on keeping the body feeling great throughout Fall and Winter.
Winkels says in temperatures between 35 and 45 degrees the body needs an extra 10 minute warmup before any type of exercise.
This will help muscles as the workout begins.
She also says the darkness can bring some positives, like being able to get to bed earlier.
Also, she points out there's no excuse to skip a workout because even if it's dark, there is still the option to wear a headlamp.
In Motion Therapy is located at 2701 W Superior St #112 Duluth, MN, 55806.
For more information, call (218)-727-1180, or head to inmotiontherapy.com.