Minnesota Suing Over President Trump's Decision to Stop Federal Payments to Insurers
Unclear How Much it Will Hurt Minnesota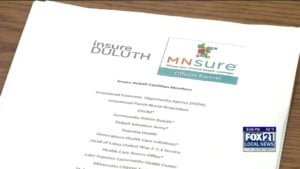 ST. PAUL, Minn. – Minnesota is joining a lawsuit over President Donald Trump's decision to stop federal payments to insurers that had helped hold premiums down for people buying insurance under the Obama-era health care law.
The White House announced late Thursday it would end the payments after months of speculation. States are preparing for premium spikes of 20 percent or more in the individual market.
Minnesota Attorney General Lori Swanson says cutting off the payments will make the cost of health care much worse for thousands of Minnesotans.
A spokesman for the Minnesota Department of Commerce said Friday that it would not raise premiums for the 180,000-plus residents on the individual market. Premiums are largely steady in 2018 after years of double-digit increases.
But Minnesota will still feel the pain because that money has helped fund MinnesotaCare, the health care program for the working poor. It was unclear how large the financial hit would be.