Study: Roundabouts Reduce Serious Injuries in Minnesota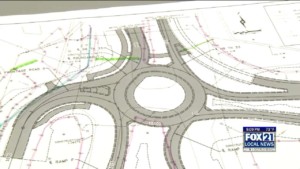 ST. PAUL, Minn. – Minnesota's nearly 200 roundabouts are reducing serious injuries and saving lives, according to a new study released by the Minnesota Department of Transportation.
According to MnDOT officials, roundabouts have a comparable initial construction costs and lower life-cycle cost than a traffic signal with similar traffic capacity.
The study examined the safety performance of 144 roundabouts by comparing before and after construction crash rates. It was found there was an 86 percent reduction in the fatal crash rate at intersections where roundabouts were installed and an 83 percent decrease in serious injury rates.
For all roundabout types (single lane, dual lanes, and unbalanced lanes) there was a 42 percent reduction in injury crash rates.
Design features of roundabouts help to reduce serious crashes and fatalities by channelizing approaches and travel speeds, which works to minimize the number of severe vehicle crashes.
Minnesota's first roundabout was installed in 1995 in Brooklyn Park.