Grand Rapids Couple Charged with Meth Related Crimes Involving Children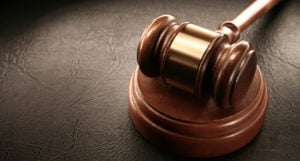 GRAND RAPIDS, Minn. – A Grand Rapids couple have been charged with felony drug crimes after appearing in Itasca County District Court, according to Itasca County Attorney John Muhar.
Forty-year-old Raymond Calhoun and Michelle Calhoun, 45, have been charged with Controlled Substance Crime in the First Degree and Methamphetamine-Related Crimes Involving Children.
According to court documents, the charges are based on allegations that approximately 12 ounces of meth were seized by law enforcement from a safe at the Calhouns' residence on Nov. 2, 2017, at which time their 16-year-old son was home. The criminal complaint states that the meth discovered was packaged for sale. Officers also located a digital scale, plastic baggies, marijuana, and $1,000 cash.
Michelle Calhoun indicated to investigators that both were using meth and that Raymond Calhoun was selling out of their home.
Records provided indicate that Raymond has several prior drug charges from 2009, and also has pending charges out of Mille Lacs County.
Both are currently being held at the Itasca County Jail and are due back in court Nov. 13 at 9:30 a.m.