At Least 50 Employees Fired From Essentia For Not Getting Flu Shot
99.5 Percent of Employees Got Flu Shot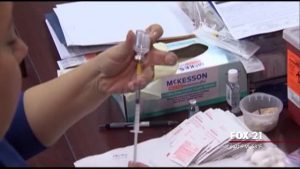 DULUTH, Minn.- The Duluth based Essentia Health has fired nearly 50 workers w ho did not get a shot and now union leaders are fighting back.
When asked what the next steps for these 50 some fired workers are?
An Essentia Health representative said the now former employees have no next step with the company. Also stating this is only a controversy because Essentia Health is ahead of the game in the Northland. Essentia is standing by the mandated flu shot policy. Three different unions have challenged the policy for various reasons.
One union attorney told FOX21 they see this as an important fight.
"There may be other things that Essentia decides and we're also aware that a lot of other medical facilities in the state of Minnesota are looking to see what happens with essentia," union attorney Sarah Lewerenz said.
Essentia told FOX21 99.1% of employees opted in to have the flu shot. The main reason given for the mandate is to prevent flu outbreaks from spreading in their facilities.
"I think other organizations will be paying attention to see how we accomplish this," Rajesh Prabhu Infectious Disease Physician said. "I know people have been talking about people getting let go from work but the reason that we did this is for a patient safety issue."
Essentia workers have previously been required to be vaccinated against measles, mumps, and rubella. Essentia is now arguing the flu shot has been added for the same reasons.
A representive from the Minnesota Nursing Association of Duluth told FOX 21, workers should make these decisions for themselves employers can't mandate policies such as this one.
"They are not to institute a policy without negotiating with us and they went ahead and did that," co bargaining MNA Duluth Chair Steve Strand said. "So we believe they broke the contract so we're going to fight that."
Union leaders and MNA representatives say besides being concerned about the fired employees; they are worried about what could be mandated next, if this policy is allowed to stand. One thing both parties agree on others in the healthcare industry are watching closely to see what happens.