CN Announces Completion of Oliver Bridge Rehabilitation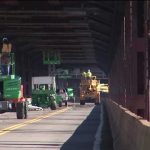 DULUTH, Minn. – Canadian National will complete the major two-year project on the Oliver railroad bridge over the St. Louis River between Duluth, Minnesota and Oliver, Wisconsin before the end of the year.
The maintenance and strengthening of the bridge is complete, according to CN and the road will reopen to traffic permanently beginning at 5 p.m. on Tuesday, Nov. 21.
The work over the past two years included:
Full replacement of two 90-foot spans at the east and west ends of the bridge
Steel strengthening of 30 bridge spans
Full replacement of 47-foot long span on east end of the bridge
Installation of 1,708 linear feet of new timber deck to carry the rail
The strengthening project was part of CN's 2016 and 2017 capital programs, which ensured the continued safety and efficiency of CN's Wisconsin and Minnesota railroad network.