Gobble Gallop Races Traffic Advisory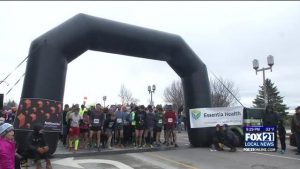 DULUTH, Minn. – The Duluth Police Department has issued a travel advisory for the annual Gobble Gallop Races in downtown Duluth.
On Thanksgiving Day, Nov. 23, the first of three races for the event will get underway at 9 a.m. with routes running West on London Road onto Superior Street to 5th Avenue West and back.
PARKING:
Parking restrictions begin at 7 a.m.

London Road from 10th Avenue East to 14th Avenue East
Superior Street from 10th Avenue East to 4th Avenue West
Areas will be posted no parking, any vehicles on the race route after 7 a.m. will be tagged and towed.
DETOURS:
Superior St eastbound traffic will be detoured up to 2nd Street, westbound traffic will be sent up 12th Avenue E to 1st Street
Access to Canal Park, Park Point, and the DECC will be down 5th Ave W to the connector to Railroad Street and from the freeway exits onto South Lake Avenue
CLOSURES:
London Road will be closed at 7:45 a.m. from 10th to 14th Avenues E
Superior Street will be closed at 8:45 a.m. from 5th Avenue W to 10th Ave E for the race
Lake Avenue will be blocked off at Superior Street
Downtown traffic is expected to return to normal by 11:30 a.m.