Wisconsin Rep. Zepnick Refuses to Resign Amid Sexual Misconduct Allegations
Representative Accused of Kissing Two Women Against Their Will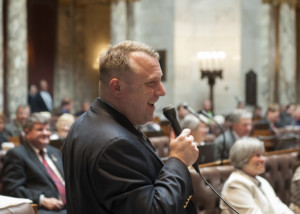 MADISON, Wis.-A Democratic state representative accused of kissing two women against their will is refusing to resign but says he will decide later whether to seek re-election in 2018.
Milwaukee Rep. Josh Zepnick says he is "disappointed and disturbed" that he was stripped of his legislative committee assignments, a move that further marginalizes him in the Republican-controlled Legislature.
Zepnick issued a statement Monday saying he has a right to defend himself from allegations made by two women who told the Capital Times newspaper he had forced himself on them in 2011 and 2015.
Zepnick has apologized and says he will decide whether to seek re-election to a ninth term "at the appropriate time in my life."
Zepnick says he hopes his removal from committees will be temporary.