Truck Goes Through Ice on Lake Vermilion
No One Was Injured in Incident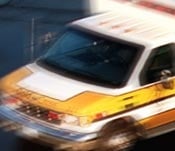 LAKE VERMILION, Minn.-A truck went through the ice on Lake Vermilion at about 6:30 p.m. last night, between Stuntz Bay and Ely Island.
Vincent Vesel, 40, of Ely, was driving on the lake and came to a stop as he was measuring the ice in different spots. His truck then broke through the ice.
Ice on the lake varied from four to 10 inches.
Vesel was not injured in the incident.