Gov. Mark Dayton Appoints Lt. Gov. Tina Smith to Serve as US Senator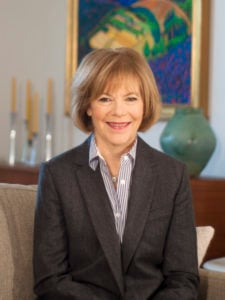 ST. PAUL, Minn. – Gov. Mark Dayton announced Wednesday during a press conference at the Minnesota State Capitol, that he will appoint Lt. Gov. Tina Smith to serve as United States Senator for Minnesota.
Smith will be appointed to serve a one-year term in the Senate, concluding in January 2019.
Minnesotans will chose a U.S. Senator to serve the remainder of the term being vacated by Sen. Al Franken in a Special Election, which will be held during the General Election on Nov. 6, 2018.
Tina Smith will resign the Office of Lieutenant Governor prior to being sworn into the United States Senate, which will occur following Sen. Franken's formal resignation from the Senate. She will then immediately begin her work on behalf of Minnesotans as United States Senator.
According to the line of succession, the President of the Minnesota Senate will then take over as Lt. Governor, which would go to Republican Sen. Michelle Fischbach.
Sen. Al Franken released the following statement about Smith's appointment to his seat:
"Tina Smith will make an excellent United States Senator, she is a dedicated public servant who's worked tirelessly on behalf of Minnesotans, and Gov. Dayton couldn't have made a better choice for this job. Her record of accomplishment as Lieutenant Governor demonstrates that she'll be an effective senator who knows how to work across party lines to get things done for Minnesota. I look forward to working with her on ensuring a speedy and seamless transition."
Statement from Duluth Mayor Emily Larson:
"Currently serving as the Lt. Governor, Tina is smart, strategic, hardworking and incredibly effective, and has been an important ally and champion for Duluth and our region. From LGA and the Steam Plant to issues like housing or addressing the opioid crisis, Tina understands the importance of leading, listening, asking questions and then putting the pedal down to get things done. I'm also glad she'll choose to run next year. This lets her colleagues and other decision makers know that her commitment is not just to lead for the short term, and allows Minnesota better representation by not being dismissed as a placeholder.

"Voters will be able to choose at the polls next year whether they support her vision, and I'm confident there will be many candidates people can choose from regardless of her intent to run. Minnesota has a history of robust political engagement and I'm certain that will be the case again in 2018. I'll miss our visits here in Minnesota, Tina, but I know that you'll represent us well, and in line with Minnesota values, out in D.C. Congratulations and thank you for your service."