Mont du Lac Offers Major Discount on Season Passes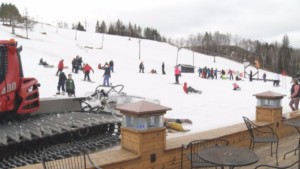 DULUTH, Minn. – Snowfall this week has excited winter sports enthusiasts all over the Northland.
Mont du Lac Resort is offering a special on season passes through the weekend.
Season passes are priced at $99, which amounts to about $250 in savings.
Passholder Perks include Passholder Tuesday – bring a friend for $5.00 (rental not included), 10% off cabin rental, $2.00 off a pitcher of beer, pizza and a pitcher of pop for $12.99.
Mont du Lac is located at 3125 S. Mont Du Lac Rd, Superior, WI.
To purchase passes, or for more information, head to www.mdlresort.com or call 218-626-3797.
2018 Schedule:
Ski Hill:
T–Th: 4-8 p.m.
Fri: 4-9 p.m.
Sat: 10 a.m. – 9 p.m.
Sun: 10 a.m. – 6 p.m.
Tubing Hill:
Fri: 4-8 p.m.
Sat: 9 a.m. – 8 p.m.
Sun: 11 a.m. – 5 p.m.