Structure Fire North of Chisholm
6894 Hwy 73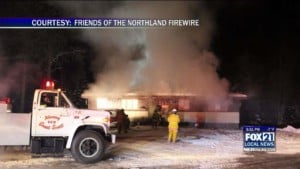 BALKAN TOWNSHIP, Minn. – The St. Louis County Sheriff's Office responded to the report of a structure fire in the 6800 block of Highway 73 in Balkan Township around 4:30 p.m. Tuesday, Dec. 26.
According to authorities, first responders arrived on scene to heavy smoke and flames coming out of the residence. Three adult residents were able to safely evacuate and checked for smoke inhalation at a Hibbing hospital.
The residence suffered significant fire, smoke, and water damage.
An origin and cause of the fire remains under investigation by the Sheriff's Office and State Fire Marshall's Office.