Crafting a Cocktail with a Nordic Twist
Cooking Connection: Swedish Sour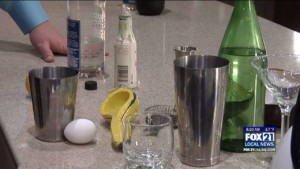 DULUTH, Minn. – For this week's Cooking Connection we're starting the year off with a Nordic-inspired cocktail.
FOX 21 Meteorologist William Seay was behind the bar to learn the steps necessary for this specialty drink.
JJ Astor Food and Beverage Manager Kai Soderberg showed William how to make Hot Buttered Rum.
Swedish Sour:
One egg white
Juice of 1/2 of lemon
.75 oz. of simple syrup
Aquavit
Shake mixture together (before ice is added)
Add ice
Shake again
Strain and pour into glass
Add rhubarb bitters
Enjoy!
JJ Astor Restaurant and Lounge is located in the Radisson at 505 W Superior St, Duluth, MN 55802.
They can be reached at (218) 722-8439 and visited online at jjastorsrestaurant.com.