Mayor Larson Announces Community Listening Sessions for 2018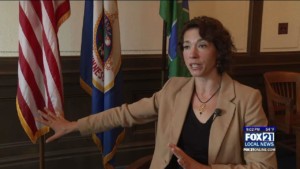 DULUTH, Minn. – Duluth Mayor Emily Larson will be continuing her annual outreach to Duluth residents through City Hall in the City Community Listening sessions held throughout Duluth.
City staff will also be in attendance representing Public Works, Parks, Public Safety, Human Rights, and Imagine Duluth Comprehensive Plan.
"I'm excited to start 2018 with a new series of listening sessions and opportunities to meet with residents to talk about important or emerging issues. As I listen to residents all of the city, it really helps provide clarity and direction for our day to day work serving residents and visitors. It's also important for residents to feel they have access to me, City Councilors, and City staff and can share insight and ideas. City Hall in the City is family friendly and open to all residents. I look forward to great conversations ahead," said Mayor Larson.
Previous sessions have allowed residents to have individualized conversations with the Mayor and City and staff leaders about various issues and topics of concern with the City of Duluth.
Upcoming City Hall in the City sessions run from 5:30-7:00 p.m. at the following locations:
Jan. 17 – Merritt Community Center, 4017 W. 7th St
Feb. 15 – Woodland Recreation Center, 3211 Allendale Ave
Mar. 21 – Central Hillside Center (One Roof), 12 E 4th St
Apr. 18 – Chester Bowl Thom Storm Chalet, 1800 Skyline Pkwy
May 17 – Lincoln Park Family Collaborative, 2424 W 5th St
Jun. 20 – Lafayette Community Center, 3026 Minnesota Ave
Aug. 15 – UMD Campus, Room 40 Solon Campus Center
Sept. 19 – Norton Park Community Center, 81st & Coleman Ave West
Oct. 16 – Pennel Park Apartments, 330 North Arlington
Nov. 14 – Lake Superior College, Room S1981