Blue Moon, Super Moon, Total Lunar Eclipse Rolled into One
Some call it a "super blue blood moon."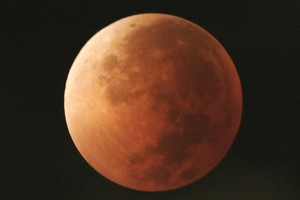 CAPE CANAVERAL, Fla. (AP) — The moon is providing a rare triple treat this week.
On Wednesday, much of the world will get to see not only a blue moon and a super moon, but also a total lunar eclipse, all rolled into one. There hasn't been a triple lineup like this since 1982 and the next won't occur until 2037.
The eclipse will be visible best in the western half of the U.S. and Canada before the moon sets early Wednesday morning, and across the Pacific into Asia as the moon rises Wednesday night into Thursday.
The U.S. East Coast will be out of luck; the moon will be setting just as the eclipse gets started. Europe and most of Africa and South America also will pretty much miss the show.
A blue moon is the second full moon in a month. A super moon is a particularly close full moon, appearing somewhat brighter and bigger. A total lunar eclipse — or blood moon for its reddish tinge — has the moon completely bathed in Earth's shadow.
"I'm calling it the Super Bowl of moons," lunar scientist Noah Petro said Monday from NASA's Goddard Space Flight Center in Greenbelt, Maryland.
Others prefer "super blue blood moon."
Either way, it's guaranteed to impress, provided the skies are clear.
NASA plans to provide a live stream of the moon from telescopes in California and Arizona, beginning at 5:30 a.m. EST.