Republican Lawmakers Involved in Train Crash in Virginia
Wisconsin Rep. Sean Duffy was on Train, was Uninjured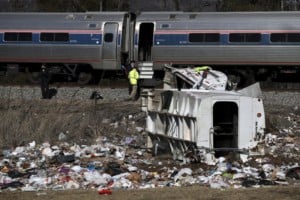 WASHINGTON, D.C. – The White House is confirming one fatality and one serious injury after a chartered train carrying Republican lawmakers to a retreat in West Virginia hit a garbage truck.  The truck had a 3 person crew.  One has died, one suffered serious injuries, the third is said to be "okay."
White House press secretary Sarah Huckabee Sanders says there are no serious injuries among members of Congress or congressional staff.
Sanders says President Donald Trump has been fully briefed on the matter and is receiving regular updates.
Wisconsin congressman Sean Duffy and his family was on the train, but according to his Twitter account, he is OK: "Rachel, the kids, and I are okay but we are awaiting more details and praying for those who were in the truck."
House Speaker Paul Ryan was on the train and was not injured.  He tweeted, "Today's incident was a terrible tragedy. We are grateful for the first responders who rushed to the scene and we pray for the victims and their families.  May they all be in our thoughts right now."
Minnesota Representative Jason Lewis is being checked for a concussion, but an aide says Lewis is otherwise okay.  Fellow Minnesota Reps. Erik Paulsen and Tom Emmer were also on board the train. Both lawmakers say they were unhurt.
The train carrying the lawmakers hit a garbage truck south of Charlottesville, Virginia.
Lawmakers were heading to their annual legislative retreat at the Greenbrier resort in White Sulphur Springs, West Virginia.
A congressman on the train involved in an accident on its way to a GOP retreat in West Virginia says three lawmakers who are doctors tended to crash victims.
Rep. James Comer of Kentucky says the collision destroyed a garbage truck, leaving it "just in pieces."  The GOP retreat will include a moment of prayer.
Comer says Reps. Larry Bucshon of Indiana, Roger Marshall of Kansas and Brad Wenstrup of Ohio came to the aid of crash victims before emergency personnel – including a transport helicopter arrived.
Comer says lawmakers, spouses, and aides had been on the train for about two hours when suddenly there was a crash. The impact made him jump out of his seat.