UMD Students Create Art to Support Duluth NAACP
Coffee Conversation: Freedom Fund Dinner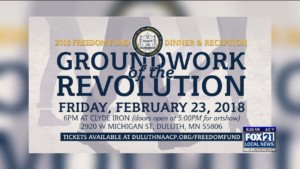 DULUTH, Minn. – The Duluth NAACP's upcoming Freedom Fund Dinner is getting some support from UMD graphic design students.
Those students are designing pieces to be sold as a fundraiser for the Duluth NAACP at the annual Freedom Fund Dinner.
This is taking place on Friday, Feb. 23.
There will be an art show from 5 – 6 p.m. and the dinner begins at 6 p.m.
The event is being held at Clyde Iron Works, 2920 W. Michigan Street.
To register for the dinner head to duluthnaacp.org/freedomfund.
Tickets for the dinner must be purchased by Feb. 15.
The last day to bid on artwork is Feb. 23.