Governor Dayton Introduces Bipartisan Legislation to Curb Opioid Abuse
Opioid overdose deaths increased 66% between 2010 and 2016 - noticeable spike in St. Louis County.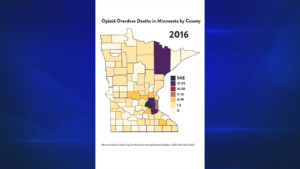 ST. PAUL, Minn. – Joined by a bipartisan coalition of legislators, Governor Mark Dayton today announced a slate of legislative proposals that would combat the opioid crisis with the hope of saving lives across Minnesota. Governor Dayton's proposals build on the recommendations of a new report released today that outlines strategies to address the drug problem. Building on past actions taken by his administration, Governor Dayton's opioid abuse proposals would annually invest about $12 million in high-impact strategies to treat and prevent opioid abuse, especially in communities that are disproportionately impacted by opioid addiction.
"Every year, thousands of Minnesotans become addicted to opioids, and hundreds of them lose their lives due to their addictions," said Governor Mark Dayton in a letter included in the Action Plan.
"I don't want to see other families go through what my family went through when we lost our son to an opioid addiction," said State Rep. Dave Baker, R-Willmar.
The Governor's proposals would improve emergency services through expanded access to life-saving overdose medications, such as Narcan, and would support law enforcement efforts to reduce the flow of illicit opioids into communities. More information about Governor Dayton's legislative proposals to curb opioid abuse and save lives are available here.
Questions have been raised at the state and federal level as to how much responsibility should land on the opioid manufacturers. The Governor included a "Penny-a-Pill"opioid stewardship program that would require drug companies to pay a fee to fund a prevention and treatment effort to curb drug abuse.  The stewardship program would raise approximately $20 million a year.  Minnesota's newest Senator, Tina Smith, is a member of the Senate Health Committee. She released a statement saying, "This 'Penny-a-Pill' bill, which builds on efforts I supported as Lieutenant Governor, would require the big pharmaceutical companies that manufacture opioids to fund programs that will help us tackle the epidemic. Let's get this bill passed."
Opioid overdose deaths in Minnesota have risen dramatically in recent years – increasing 66% between 2010 and 2016.  Governor Dayton's office tweeted a series of maps showing the increase of opioid overdose deaths throughout the state.  One noticeable spike is in St. Louis County.