New Details Come Forward in Ely Duplex Fire
Eight Residents Displaced in Fire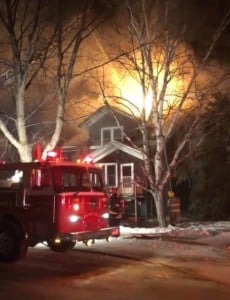 ELY, Minn.-New details are emerging after a fire ripped through a duplex in Ely in the early morning hours Sunday at 26 E. White St.
The Ely Fire Department said one occupant from the home was taken to the Ely Hospital due to smoke inhalation.  A Babbitt firefighter was also treated and released for a wrist injury after falling on some ice at the scene.
Eight residents of the duplex are now being assisted by the Red Cross.
Assisting the Ely Fire Department were the Babbitt Fire Department, Morse/Fall Lake Fire Department, Ely Ambulance, Ely Police Department, and Lake County Sheriff's Department.
The Minnesota State Fire Marshall's Office will be assisting the Ely fire and police departments in determining the cause of the fire.