Twin Cities Students Walk Out of School in Support of Gun Control
Walkouts Happening in Response to Florida High School Shooting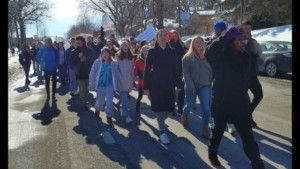 FROM FOX 9, our sister station in Minneapolis
MINNEAPOLIS, Minn.-High school students in Minneapolis are walking out today to protest gun violence following the recent high school shooting in Florida.
Since the shooting that left 17 people dead at a high school in Parkland, Fla., students across the nation have been staging protests demanding lawmakers pass gun control legislation. They are urging lawmakers to pass regulations that would make it more difficult for people to obtain assault rifles like the one used by the shooter.
On Wednesday afternoon, students at Washburn High School, Roosevelt High School, South High School, and Southwest High School walked out of school and marched to Minneapolis City Hall.
Similar walkouts have been reported in other states as well.