Cloquet Holiday Robbery Suspect Arrested
Incident Occurred Late Saturday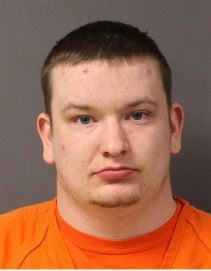 CLOQUET, Minn.-A suspect who allegedly robbed a Holiday in Cloquet late Saturday has been arrested.
The suspect, 19-year-old Colt Dalton Nyberg, of Wrenshall, was arraigned in Carlton County District Court on one count of aggravated robbery in the first degree and possession of a small amount of marijuana. His bail was set at $50,000 with a 10 percent cash option.
"The employee said a man wearing a red hooded sweatshirt carrying a camouflage backpack entered the store," the police said in a statement. "He approached the counter, brandished a large hunting knife, and demanded all the money from the cash register and the safe.  The employee complied with the demands and the suspect stuffed the money in his sweatshirt pocket."
During this time his actions caught the attention of a customer who was outside the store.  The customer attempted to block the doorway, but the suspect was able to push his way through the door and ran outside.  The customer went to his vehicle and followed the fleeing suspect as he called 911 to give a location to responding officers.
Three minutes later, an officer located the suspect running northbound on the 10-block of 16th Street.  The officer ordered the suspect to the ground at gunpoint and took the man into custody without further incident.